Satsuki Law Firm
| english home | attorneys | practice area | fees | consultation |
About our office
We are one of leading attorneys in legal issues of foreign nationals living in Japan, such as Family issues, Employment, various Compensation, Medical malpractice, Car accidents, Inheritance, Wills, Immigration (Visa), Naturalization, Criminal cases, and so on.
We are willing to represent foreign nationals who are not necessarily advantage in Japanese courts and do our best to protect their rights. The head of our office has been introduced as one of the most competent counsels in Japan in a weekly magazine named Weekly Asahi.
We handle multilingually. Please contact us by phone or e-mail in your language. As of April 2012, We can offer you legal consultation in English, Chinese, Korean, Tagalog and Japanese.
Satsuki Law Firm
Ohnuki Kensuke attorney-at-law
Access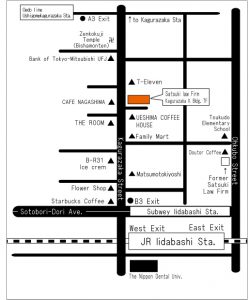 Near from IIDABASHI Station
By JR (Sobu Line): 5 min from West Exit
By subways:
(1) Oedo Line[USHIGOME-KAGURAZAKA Station]: 5 min from A3 Exit
(2) Namboku Line/Yurakucho Line/Tozai Line: 3 min from B3 Exit
Announcement
Free Consultation Attention
We provide legal consultation for first 30minutes free. After 30 minutes, consultation fees shall be 5,000 JPY+tax per 30 minutes. Call 03-5261-8291 (9:30am to 5pm) for an appointment.
Attention
We have no connection with "Kaitou Souta". "Kaitou Souta" does not belong to us in the past and present.
Free e-mail consultation
We can provide you basic legal information by email for free of charge. However, please note that we can neither answer all questions nor obliged to answer your questions by email. You are advised to come to our office for legal consultation (prior appointment necessary) when you have legal issues and wish our opinion for your case.